At work and particularly in the industry field, in many situations, natural eye protection is not enough.
Preserve your capital as seen at work
Indeed, the eye is a fragile organ protected from the risks of everyday life by its position in a bone cavity, the orbit. The eyeball is immersed in a very fluid greasy environment, which absorbs shocks. It is connected to the orbit by six oculomotor muscles which provide movement. In the event of a major impact, these natural protections are not enough and the integrity of the eye is threatened.
An eye injury can have consequences that range from superficial irritation to irreversible sequelae :
Burns, inflammation
Scratches, cuts, perforation
Internal injuries
An eye accident is rarely benign.
Distribution of causes of eye accidents :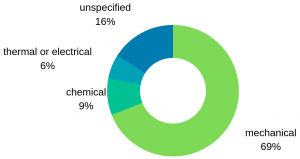 Wearing safety glasses standardised EN 166 is then mandatory in high-risk situations (see below).
All Essilor Pro-Safety® equipment is approved according to EN166, EN170, EN172 and complies with European Parliament and Council Regulation 2016/425 on personal protective equipment.
EN 166 : basic features that must be met by all eye protectors with regard to their minimum resistance and optical qualities. This standard includes specifications corresponding to risks such as mechanical, thermal, chemical and radiation hazards.
EN 170 : ultraviolet (UV) filters
EN 172 : sun protection filters for industrial use
(Source : « Personal eye and face protection equipment », INRS)
Optimize wearing comfort to ensure continuous protection
Wearing safety glasses of poor quality, especially if they are worn superimposed on personal glasses, has many disadvantages. These glasses, which are still often offered to employees, cause visual discomfort and non-observance of wearing.
Offering high quality optical safety glasses provides effective protection, optimal vision quality and greater comfort. In addition, it is essential that the frame matches the tastes of the wearer so that he or she will enjoy wearing it. This is the assurance of continuous wear and employee satisfaction.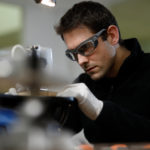 Vision : an essential meaning in work
Quality of vision and visual comfort are the essential conditions of an efficient work. The requirements of precision, concentration, lighting, posture… can be a source of visual fatigue.
Our safety glasses are category 2 PPE (major risk for criminal liability) and class F (low energy impact) are available with or without corrective lenses.
Choosing Essilor Pro-Safety® means protecting and satisfying your employees for more efficient and safe work.
Did you know?
Studies have shown that investments in safety and health provide direct benefits in microeconomic terms, with a ROP (prevention yield) ratio of 2.2. In practice, this means that companies can expect a potential return of 2.20 euros (or any other currency) for every euro invested in prevention, per year and per employee.
Companies therefore have an economic interest in investing in prevention.
(Source : « The return on prevention », ISSA International Social Security Association)
In 2010, CAMTS (Health Insurance Fund of Employees) estimated that 65 000 eye injuries in France, of which 18 000 required a stoppage of the employee.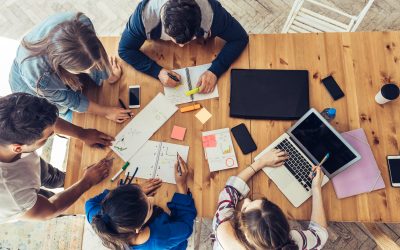 Since 2015, Essilor has been a member of EIT Health, a community of EU-backed health. In partnership with 150 members, the goal is to drive innovation.
read more